PROJECT MANAGEMENT
ACHIEVE CONSISTENT PROJECT MANAGEMENT WITH LOHABOUR'S TOTAL SOLUTION EXPERIENCE
LOHABOUR Designing Process for office or home
LOHABOUR creates new work or life styles and places that are not bound by established concepts while using the project management method. By grasping and directing the entire project, it is possible to create a smooth and consistent office and home.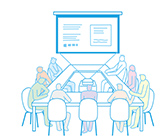 1. Identifying the issues and requirements
By setting the issues straight by employing various investigation/analysis methods, we define the design requirements.
2. Planning an optimal office or residential space
By taking the work and life style into consideration, we create a new space.
3. Production management
By completing thorough production, safety and quality supervision, we promote smooth production.
We will grasp the whole project and direct it from the perspective of overall optimization.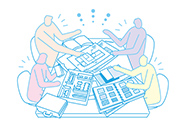 Specific Steps:
Step 1
Project system, schedule, budget, decision making method etc. firmly.
Timely and Accurate Budget Management We will control costs and promote stable projects by conducting budget simulation based on dozens of project management work results annually and timely budget management suitable for each phase.
Step 2
Programming (requirement definition) We clearly define the concept of office building while visualizing tasks using various research methods.
Step 3
Basic Design
Project system, schedule, budget, decision making method etc. firmly.
Step 4
Practical designing Compile the entire plan by examining the details by work and function involved and prepare the drawings (documents) required to form the "shape" generated by the basic designing.
Step 5
Confirm with clients
Step 6
Production Management
We will set up the optimum construction schedule and construction management system and will promote safe construction with careful discussion with stakeholders.
Step 7
Take delivery
Step 8
Operation & Maintenance
New work style Maintenance will be carried out to support operation and management rules for smooth operation of work place and keep it in proper condition.